More details
I was surprised to learn this receiver does not have optical out, although it does have coaxial out (I used a higher quality RCA cable that did the trick). Every DTV receiver I've had for the past 10 years has had optical out. Our Pioneer receiver has both optical and coaxial in so it wasn't an issue for us. All the receivers are intelligent enough to remind you if the remote is still in TV device mode so you don't sit there clicking and clicking and wondering why nothing happens. This is probably a feature the 80 MPH girl would like.



This receiver has a network socket so you can connect it to your DHCP enabled network easily. This will get you access to all the on demand and pay per view stuff. I actually just bought a $20 router on eBay and converted it to a wireless bridge to wirelessly connect my DirecTV receiver to our wireless Uverse 2Wire router. Click here if you'd like to create your own.
The verdict
There are a few features the UVerse had that I'll miss; like optical audio out. Also, I liked the free NFL Redzone channel during football season, and the integrated Yahoo fantasy football stats. Not sure what DTV offers but I am looking forward to the NFL Sunday ticket that only DirecTV does. Most of all, we're really looking forward to upgrading to the Samsung UN60D7000 LED LCD. That's going to take the Sunday ticket to the next level.
I've already seen a few Google searches come in for this article, one of them was, "HR34 freezes". Ours has frozen only a few times, but I'd like to hear from others what your experience has been. Is your HR 34 freezing or stopping? Are you thinking about getting the HR34? How does it compare to UVerse or Comcast? Leave comments below so we can start a discussion.
I like the built in temperature gauge, so far have not had any overheating issues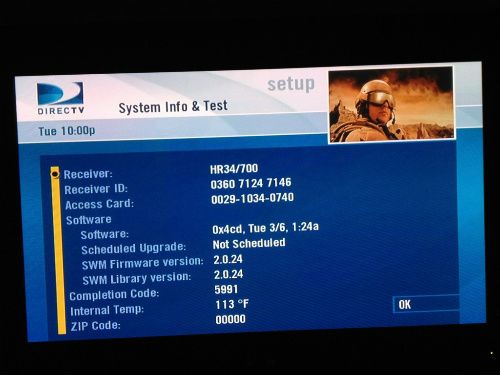 On Demand stuff
Once you hook up the network, a lot of on demand material becomes available. Some you can pay for, much of it is free, you can easily find cartoons for the kids to watch. The on demand content can be sent to the other DirecTV boxes as well which is also great. My sensitive eye was able to detect slightly less video quality on much of the content compared to the standard DirecTV channels.
Update
Since I installed our HR34-700, we automatically received a software update that significantly changed the look and feel of the menus. I also think it's helped with the receivers stability. So far we haven't observed the issue of a recording prematurely skipping to the end while you view and the show is still recording. This was a major nuisance that appears to be resolved. We also haven't had to reboot yet because of a freeze, another good sign. For more details about 0x547 (1351) software update, click here to go to page 3 of this article.



Five tuners means you'll have a lot less tuner anxiety on your biggest recording night